Suche
Krzysztof Mucha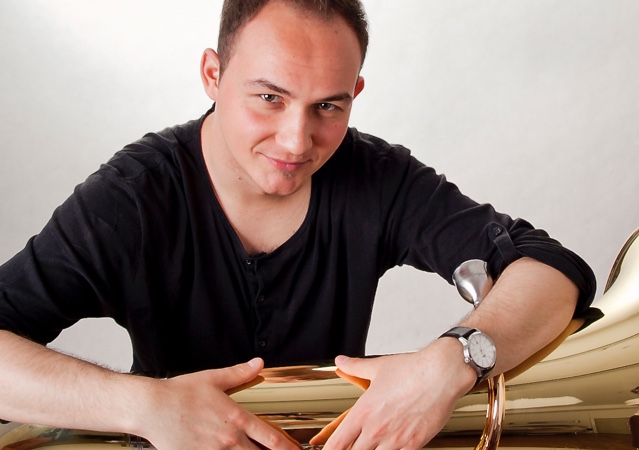 NFM Wroclaw Philharmonic Orchestra, Academy of Music in Poznan, Academy of Music in Wroclaw, Polish Brass Quintet, Sinfonia Varsovia Brass
Krzysztof Mucha, born 1988 in Brodnica (Poland). He began his musical education in 2004 in Karol Szymanowski's National Secondary Music School in Torun under direction of Kazimierz Kmieć. After 3 years he passed the exam and got to the college. He was a student of the Academy of Music in Cracow from 2007-2012 studying with Jakub Urbańczyk and in 2012 he graduated it with honors.
From 2012 he is principal tuba player with the National Forum of Music Symphony Orchestra in Wroclaw (Wroclaw Philharmonic Orchestra).
Krzysztof is assistant professor of tuba and eufonium at the Academy of Music in Poznan and Wroclaw (Poland).
One of the members of the Polish Brass Quintet and Sinfonia Varsovia Brass.
He participated in master courses and seminars conducted by Roger Bobo, Oystein Baadsvik, Roland Szentpali, Paul Krzywicki, Zdzislaw Piernik, Rod Franks, Owen Slide, Simon Wills, Michael Thompson, Robert Kozanek, Carsten Svandberg, Wolfgang Pfistmuller.
Krzysztof is a laureate of many national and international competitions. Among them he won the 1st prize at the 9th International Interpretative Competition for Wind Instruments in Brno, Czech Republic (2013), the 1st prize at the 6th International Competition and Festival for Soloists and Chamber Music Groups in Svirel (Slovakia) (2014), the 1st prize at 2nd National Brass Competition in Katowice, Poland (2010).
In 2012 he received a scholarship of the Ministry of Culture and National Heritage "Young Poland".
He is also freelance with other Polish orchestras like the Polish National Radio Symphony Orchestra, the Sinfonia Varsovia, the Polish Radio Orchestra, the Beethoven Academy Orchestra, the Sinfonietta Cracovia, the Julius Slowacki Theater.
Passed the exam to young orchestras, Civic Orchestra (season 2014/2015), Gustav Mahler Jugendorchester (2010), I Culture Orchestra (2010).
Retour en Haut