Search
Our Story
1810
Johann Langhammer started a business for brass and harmonica manufacturing in the Vogtland area (Markneukirchen). He was one of the three hundred worshops with over 3000 trained craftsmen who worked there until the start of the Second World War.
1922
Anton Meinl, son of Wenzel Meinl was expelled from his country and didn't have the opportunity to go back to Graslitz.
1947
Anton discovered his father Wenzel in Bavaria and then decided to start the old family business again in Gerestried, choosing the brand name Melton for his instruments. As the brand name Melton was already taken in the USA, Anton chose the other brand name Meinl Weston, a conscious decision in the times of the cold war. Meinl Weston stood for high quality crafted instruments, coming from the "west"
1970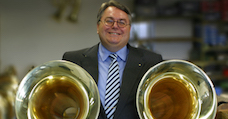 As his father was famous for creating instrument patterns which lead to a rich sound and the typical Melton centered tone, Gerhard soon established the principle of the "open instrument workshop" : create instrument improvements and new products, in close co-operation between the craftsmen and the professional musicians .
1991
Together with institutional investors and with the background of a stock-market-listed equity fund, he founded a music holding company in 1991 to take over the state owned brass-instrument production company B&S of the former GDR
2000
Gerhard Meinl took the lead in a management buyout, after a complete and successful reorganization of the of the entity
2012

Buffet Crampon Group acquires B&S Group and its 4 brands and then brings 250 years expertise manufacturing in brass instruments.