Recherche
David Saltzman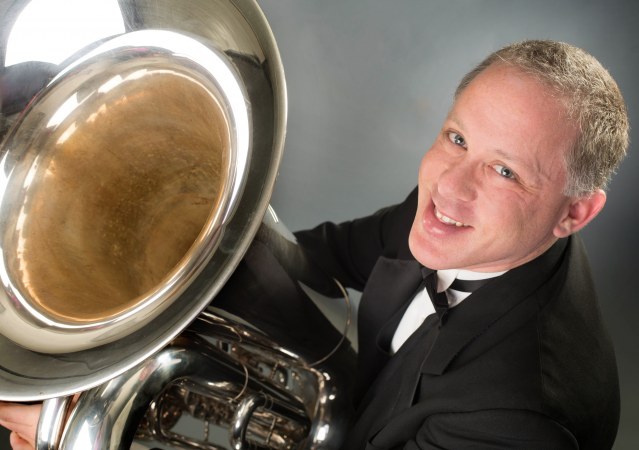 Principal Tuba - Toledo Symphony Orchestra
David Saltzman has been the Tuba and Euphonium Instructor at Bowling Green State University and the Principal Tuba player of the Toledo Symphony Orchestra since 2007. In 2011 David joined the Glimmerglass Opera Festival based in Cooperstown, NY as their Principal Tuba player for their summer Opera series. Prior these appointments, David was the Principal tuba player for the Honolulu Symphony Orchestra and the Honolulu Brass Quintet (1997-2007). He was also the Tuba/Euphonium instructor at the University of Hawaii and the founder and director of the University of Hawaii's Tuba/Euphonium Ensemble.
David has performed with many orchestras throughout the United States and Canada, including the Cleveland Orchestra, the Detroit Symphony Orchestra, the Indianapolis Symphony Orchestra, the Pittsburgh Symphony Orchestra, the Baltimore Symphony, the Alabama Symphony and the Windsor Symphony. He can also be heard playing 2nd tuba on the Pittsburgh Symphony's recordings of Symphony Fantastique and Eine Alpensinfonie conducted by Marek Janowski.
An active soloist and chamber musician, David was the winner of the Colonial Euphonium-Tuba Quartet's Tuba Solo Competition in Albany, New York back in 1996. Since then, David has performed as a featured soloist throughout the United States and Europe. Active amongst the International Tuba Euphonium Association's festivals, David has performed solo recitals at many of their Regional and International Festivals as well as a featured soloist with United States Army Orchestra during the 2014 United States Army Tuba Euphonium Conference. David has most recently been working as part of a consortium of tuba players commissioning a new concerto for tuba by Samuel Adler currently slated to be premiered in October of 2018 with the Toledo Symphony Orchestra.
David also performs numerous solo recitals at schools and Universities around the country. In 2010, he performed the John Williams Concerto for Tuba with the Toledo Symphony as part of the orchestra's Key Bank Pops Series and performed Arild Plau's Concerto for Tuba and Strings in October of 2014 on the Toledo Symphony Classics Series. The Toledo Blade heralded the performance saying, "Saltzman clearly was equal to the piece, using lyrical passages to reveal his lush, bronze tone, and fast runs and intricate tonguing to demonstrate his technical expertise."
David is proud to have studied the tuba with Harvey Phillips, Daniel Perantoni, Fritz Kaenzig, Toby Hanks and David Fedderly. He lives in Sylvania, Ohio with his amazing wife, three beautiful children and two happy and energetic poodles.
Retour en Haut