Recherche
George Palton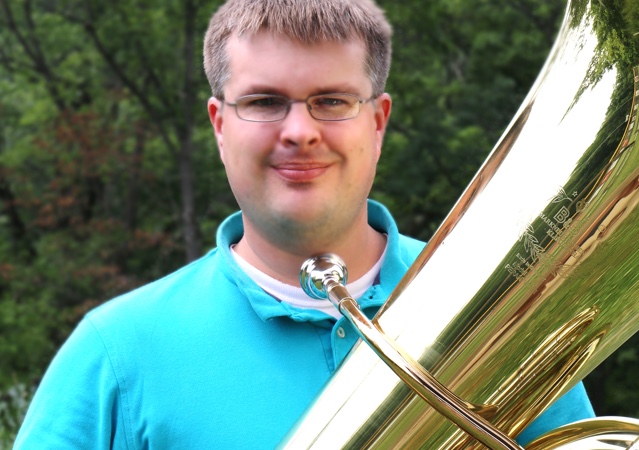 Adjunct Professor of Tuba and Euphonium at Marshall University in Huntington
George Palton currently serves as the Adjunct Professor of Tuba and Euphonium at Marshall University in Huntington, West Virginia. Along with his duties at Marshall, George is active teaching in the public schools. He holds degrees in Tuba Performance at the University of Kentucky (DMA, MM) and Music Education (BMME, BM) at Bowling Green State University. Previous teaching appointments include West Virginia State University, The University of Kentucky, and Transylvania University.
Dr. Palton has won first place in several solo competitions including the Susan Slaughter International Solo Tuba Competition (2010), the International Tuba Euphonium Conference Tuba Artist Competition (2006), the Bowling Green State University Competition in Music Performance (2002), the National Federation of Music Clubs Orchestral Brass Solo Competition (2001), along with second place at the Susan Slaughter International Solo Brass Competition (2010), and the Potomac Festival Tuba Virtuoso Competition (2006). He is sought after as a performer and clinician both regionally and throughout the country. George has performed at the International Tuba/Euphonium Conference, the Army Band Tuba/Euphonium Workshop, the Mid-West, NorthEast, and South-East Regional Tuba/Euphonium Conferences, and the Phi Mu Alpha National Convention where he has premiered new compositions and original transcriptions. He is an avid chamber musician with an interest into expanding the role of the tuba in diverse settings and is currently performing with the Four Horsemen Tuba/Euphonium Quartet.
In addition to his performing and teaching activities, he is an active arranger and developer of pedagogical materials. He has published his research and arrangements through The Journal for the International Tuba Euphonium Association, Tuba-Euphonium Press, RM Williams Publishing Company, and Cimarron Music. His debut solo CD "Tuba in Motion" was released through Mark Records and features a variety of original recordings in numerous solo and chamber settings. Recently, his performance of Perpetuum Mobile by Mark Zanter was released on Ablaze Records "Millennial Masters Volume #6."
Dr. Palton is a Buffet Group Tuba Artist and Clinician. He performs exclusively on B&S and Meinl-Weston tubas.
Retour en Haut