Search
Tristan Eggener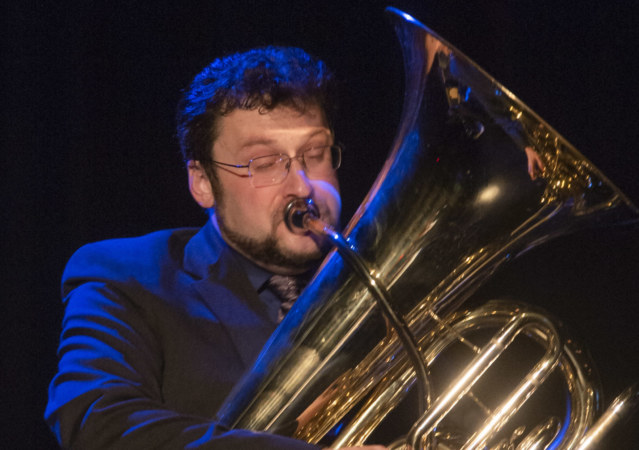 Northwest College, Wyoming
"Dr. Eggener is an Assistant professor of Music Theory at Northwest College in Wyoming. Prior to his appointment he served as Associate Professor of Music at Southeastern Oklahoma State University where he taught theory, low brass, and jazz studies. He has routinely been awarded for his teaching and outreach activities for his school and community. Recent ensemble affiliations include extensive touring with the Sherman Symphony Orchestra, Synergy Brass Quintet, Tommy Dorsey Orchestra, and regular public performances with jazz artists in the Dallas/Fort Worth and Texoma region.
A versatile musician and avid composer and arranger, Dr. Eggener has performed in many brass quintets, symphony orchestras, jazz bands, wind ensembles, and Broadway musicals throughout his career. He specializes in low brass, bass, composition, and music theory. He has an extensive discography of original jazz works with LGY records – his original compositions have been considered for Grammy nominations. Tristan's group The Oatmeal Jazz has been featured in Downbeat magazine and received acclaim from critics around the world.
Dr. Eggener holds awards from many competitions including first prizes at the Leonard Falcone Tuba Festival and the Kalamazoo, Fox Valley Symphony, and the Lakeshore Wind Ensemble Solo Competitions. An Emerson Scholar from the state of Wisconsin, he is the recipient of the prestigious Bob Meyers Award for Jazz at State University of New York -Stony Brook and received a Downbeat Critics Award while attending the Eastman School of Music.
As a brass and jazz educator he has served as a guest artist and clinician in the U.S. and internationally at universities, music festivals, and school districts. Dr. Eggener is a Buffet Crampon artist and exclusively plays Melton Meinl Weston brass instruments."
Retour en Haut